Although there is certainly no lack of spectacular motives, there are not many photo books or documentary photography magazines with the Western Front as theme. However, about ten years ago two photo books appeared, both published in various editions, and both got follow-ups wich focus on particular areas of the western front. Then in 2007-2008 no less than four new Western Front photo books were published.
Cicatrices: La Grande Guerre aujourd'hui
(Tallandier 2008), photograps by Jean Richardot and text by Stéphane Audoin-Rouzeau and Gerd Krumeich,
both co-presidents of the steering committee
of the
Research Centre at the

Historial the la grande guerre
in Péronne.
The photographer Jean Richardot (born 1959) began his investigation into the landscapes of the First World War in 2000. He explores the battlefields in the North and East of France. His intention is not to create an inventory of vestiges, but to reveal places that, outside of official commemorations, preserve an emotional charge hardly dulled by time. The book was presented and photographs exhibited at the exhibition
"Commémorer: hier, aujourd'hui, demain"
("Commemorating: yesterday, today, and tomorrow") at the Historial de la Grande Guerre October-December 2008.
Champs de bataille de la Grande Guerre: Traces et témoignages
(Flammarion 2008), text by Laurent Loiseau and Géraud Benech, colour photographies by the professional British photographer Mike St Maur Sheil, who has been photographing the Western Front for several years, see
Landscape Photography Courses
and
westernfrontphotography.com
. A DVD follows with the book, with more of his photographs.
Mike St Maur Sheil's photographs of the Western Front has been exhibited at the
Canadian War Museum in Ottawa
and in conjunction with the Memorial Museum Passchendaele 1917 at six locations through-out New Zealand.
Mike St Maur Sheil out in the fields.
Mike St Maur Sheil uses a Kodak DCS Pro Slr 14n which gives him a 14Mb Raw file.
He writes that he gets up early, stays out late and doesn't mind getting cold and wet. T
he special equipment a battlefield photographer needs, according to Mike St Maur Sheil:
Graduated neutral density filters are a real advantage as they enable you to control the contrast between the ground and the sky.

Tripod head quick release plates - they enable you to switch cameras easily and safely even when your hands are cold

Walking boots and good warm weatherproof clothing are essential - battlefields tend to be quite rugged places and shooting in bad weather heightens the atmosphere so I tend to shoot in all but the worst weather. A number of layers are better than one thick coat.

Kneeling pads - gardeners strap-on kneeling pads (available from any garden centre) keep your trousers dry when kneeling on wet grass and sharp stones out of your knees!

Batteries - generally speaking there is not a Jessops over the next hill, so do bring spare batteries and chargers.

Walking pole - I find it steadies me when crossing those rougher bits of ground.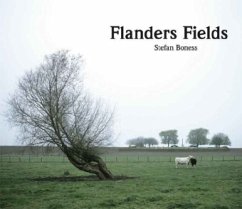 A Western Front photo book appeared in Germany in 2008, with colour photos by the professional German photographer Stefan Boneß and text by Tanja R. Müller,
Flanders Fields: Eine fotografische Spurensuche auf den Schlachtfeldern des Ersten Weltkrieges
(Bildschöne Bücher 2008). See photos published at
independent.co.uk
! See the web site of Stefan Boneß
here
. Also a collector's edition is published (limited to 3x10 copies, with signed print).
Verstild en Versteend/Weathered Witness: Relicten uit de Eerste Wereldoorlog
from 2007 is a beautiful monocrome photography book with texts in both Dutch and English, by the photographer Patrick Goossens and text and research by Wim Degrande. Wim Degrande is well known among Western Front travellers and researchers. The book is published by Davidsfonds/Leuven (24 x 24 cm, 208 pages).
In combination with the publication of the book, a selection of the photographs could be seen in the exposition "Remembered and Forgotten" in the
In Flanders Fields Museum
at Ypres, July-August 2007.
Les Champs de la mémoire: Paysages de la Grande Guerre
(Editions du Chêne 1998), by the British photographer John Foley and Anne Roze (author), has a preface by Jean Rouaud, the author of the 1990 bestseller
Les Champs d'honneur
(translations:
Fields of Glory
;
Die Felder der Ehre
;
Ärans väg
etc.), and was published in English already the following year,
Fields of Memory: A Testimony to the Great War
(Cassell 1999, and later paperback editions).
Also
Traces de la grande guerre: Les vestiges oubliés de la mer du Nord à la Suisse
(text in both English and French, published both in one and two volumes,
Morval
1999), by the legendary French-American photographer
Jean S. Cartier
(born 1932, see more about J. S. Cartier
here
), has a preface by Jean Rouaud. Notice that there is also an older hardback edition of this book, published 1995 in a smaller edition.
From the photographer's
web site
: "This project, which aimed to record as many surviving vestiges of the conflict, was carried out over a twelve-year period with a large-format camera (4x5) along the 1914-1918 trench system stretching from the North Sea coast of Belgium to the French-Swiss border. More than 350 sites were surveyed."
The two later books above are very rare and expensive at the second-hand booksellers.
The Belgian/Netherland edition of
National Geographic
had an article, "
Bewogen land
", in the November 2004 issue, with some nice photographs by Tim Dirven.